Ritchie's Hall Hiring Tips
If possible, when hiring a hall for a children's birthday party, avoid big, echoey halls and look for venues with a car park for yourself and your guests. Small village halls and church halls are great. Home parties are great too. For parties at home, I recommend inviting no more than 15 children. I offer a 1-hour package for home parties, 2-hours if you have a larger house.
Avoid town centre venues as they are very difficult for guests to park in. I don't offer entertainment in soft play centres as parties there are chaotic and normally have stressed out staff that are keen to usher you quickly in and out for their other 4/5 parties that day.
Check that the venue has a kitchen and if you wish to serve alcohol to the grown-ups, check they don't have a "no alcohol" policy. If you are unsure to have alcohol for your adult guests, my advice is definitely do! It makes the party more fun of course.
Booking 30 mins before and after the party is possible to set up/pack down, but an hour each side of the party times (especially before the party) is best for you. Book the hall for a two-hour party for four hours if you can. Ask a few friends/family to help with setting up/packing away to move chairs, etc. 2 hours is the ideal length for a children's birthday party.
Best to book Ritchie for the 2-hour party in a hall/venue for a birthday party. If you do go for the 1-hour package, bring a music system for after Ritchie has left.
Book Ritchie before you book the hall. There are loads of halls around but only one Ritchie! "Oh no, you are booked already? Can you cancel the other party?" Sorry, no!
Sutton halls for hire
Croydon halls for hire
(Avoid Project B) *
Kingston halls for hire
East Surrey halls for hire
Merton halls for hire
Bromley halls for hire
* Project B has a massive staircase to get into the venue and the nearest parking is really far away. There's no kitchen and staff are unhelpful.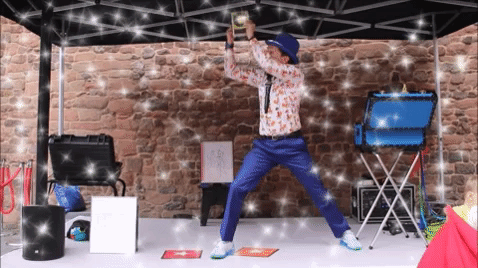 For Prices & Availability: