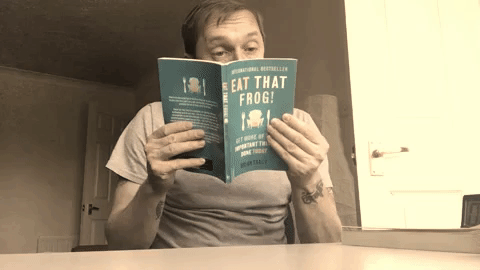 I had a rubbish two days of doing hardly anything productive and spending most of my time debating with people in the Youtube comments section. A place that obviously should never be visited.
I'm not saying they are for everyone, but "self-help" books (surely there is a less cringey name for them?) really help me a lot. They get my motivation going which is always a challenge when you have no boss. There are key ideas in these books but when I highlight them and read back only the meaty nuggets, it never strikes me in the same way. I guess the meaty chunks need the gravy and the onions.
My biggest life problem is procrastination and the books below have really helped me deal with this and I really must read them all again. Maybe next week.
Phone and PC apps
I have a big problem with addiction to social media. I had a very successful recent 3 months of no social media. But if you are similar to me, my advice is to delete all those apps from your phone and just have a look on your PC a few times a week.
If you work on your computer a lot, check out the brilliant app on Google Chrome, Waste No Time
You can set a time period that it will block a list of sites that you can add to it or block all apart from those you have added to the allow list.
Also, the awesome phone app, Forest is brilliant. You set the timer going for 30/60 minutes for a tree to grow and if you open your phone it will kill the tree. It's fun and a great incentive to not look at the phone.
An example of my putting things off lameness is me starting this blog last week after going to a lecture on blogging 4 years ago. I think this is a great success. I could have started it 7 years later. So there!
What are your favourite life coaching books?
New blog every Tuesday!
Check out Ritchie's YouTube channel here
Ritchie Rosson is a children's entertainer & magician based in Sutton, London UK.